Men's Hockey: Aigles Bleus and Reds Meet Friday in Fredericton
PUBLIÉ LE 14 Novembre 2019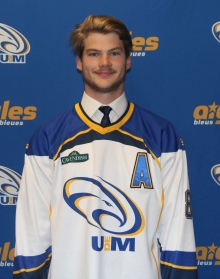 Olivier Desjardins
In an Atlantic University Sport men's hockey game, the Université de Moncton Aigles Bleus (6-4-3=15 points, 4th position) travel to the Aitken Centre, in Fredericton, on Friday for a third encounter with the University of New Brunswick Reds (9-3-0=18 points, 1st position).



The Judes Vallée coached team promises a more competitive opposition as compared to the previous ones. The Reds did win their last game and were 4-0 and 4-2 winners against the Bleu et Or this season.



"We are slowly building our confidence," Vallée said. "We are capable of playing with them. Nothing is impossible. We have grown as a team since those first two games, and our team experience is much better."



Defencemen Olivier Desjardins has confidence in his teammates. "We need to work harder and smarter, but it is possible to win," he added. "We held a good practice on Thursday to be ready offensively and defensively."



Étienne Montpetit will be in nets for a 14th game this season.
Source : Direction des communications, des affaires publiques et du marketing
Communiqué de presse - Pour diffusion immédiate -
Retour