Younes Bouida Will Coach Men's Soccer Aigles Bleus
PUBLIÉ LE 13 Mars 2019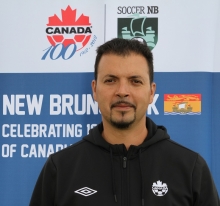 Younes Bouida
The Université de Moncton athletic director, Marc Boudreau, announced that Younes Bouida will be the next head coach of the men's soccer Aigles Bleus team for the next Atlantic University Sport season.

Currently executive and technical development director of Soccer New Brunswick, Younes Bouida is no stranger to the Moncton campus soccer program.

"I look forward to working with Younes Bouida," Marc Boudreau said. "He has the experience needed to bring our program forward. He has excellent soccer knowledge and is familiar with our players. We wanted to add to our present agreement with Soccer New Brunswick to include Younes Bouida as head coach. We already had an agreement for technical support for our women's and men's teams from Soccer New Brunswick employees."

"This partnership with the Université de Moncton will offer a new tool in soccer development in the province," Younes Bouida said. "We have been involved in developing our high-performance program for a number of years and the Aigles Bleus program should see its benefits as well as our partners and round ball enthusiasts. New Brunswick athletes should be able to attain and develop to their full potential, enabling them to dream and play where no one has been before."

Bouida has a bachelor of mechanical engineering from the Université de Moncton (2003). He is a former soccer Aigles Bleus, having played three seasons in 1998, 2000 and 2002. He was soccer coach of Team New Brunswick at the 2017 Canada Games and coach and technical director for the New Brunswick High Performance Soccer Academy. He holds his A Canadian soccer licence and is certified FUTURO III by FIFA and Soccer Canada. He has more than 20 years coaching experience and was head coach for Team Atlantic, between 2011 and 2014. He was also coach for high performance teams U20 and U17 at the Wydad professional club in Casablanca, Morocco. He has been invited to coach with several national teams in Canada.
Source : Direction des communications, des affaires publiques et du marketing
Communiqué de presse - Pour diffusion immédiate -
Retour